Hi there everyone! And
HAPPY FRIDAY THE 13TH!!!!!!
My kids are all kinds of excited about that date! They want to come home from school today and watch scary movies all night long! Me...I just want to snuggle up in my bed and sleep!
(I think that is a sign of old age...isn't it??)
Anyhoo.....YOU are some lucky little duckies to be hopping along with us today on our


FIRST Blog Hop Of 2012!
If you have come to my bloggity blog from Heidi's Beautiful Blog then you are on the RIGHT TRACK!!! If not...you might consider starting at the beginning at
I am quite sure you have encountered some FANTABULOUS projects along the way today.
Don't we have just the most amazing team EVAH!!??
Trust me....there is much more to come before you are finished hopping!
The is some talent up in here!!!! LOL
This month, we are showcasing this BEAUTIFUL assortment of ribbons that is absolutely PERFECT for Valentine's Projects!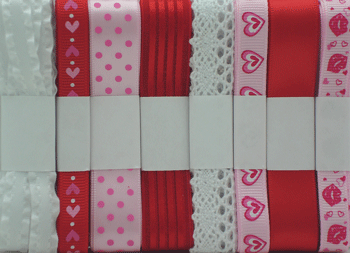 I LOVE the colors!!!!
When trying to decide what to do for my "Bow of the Month", I first had to decide if I wanted elegant, fun, frilly...what?
Skye and I decided that we wanted a FUN bow for V-Day,
so I made her favorite...a Korker
A.K.A "The Curly Q"!
Now...I can't just stop there...OH NO.
I have to make something for Aubrie...right?
Well, Miss "I AM TOO OLD FOR BOWS" loves
Aren't they just ADORABLE!!!
Well, I hope you liked my creations.
Make sure to tune back in tomorrow to the RRR blog for a quick and easy tutorial on how I did these hair pretties!
Thank you all so much for stopping by here today!
Your next stop on this hop is at Dawn's Delightful Blog.
***DON'T FORGET about the BLOGOVERSARY GIVEAWAY***
Click >>>HERE<<< to enter!!!!
Have a FANTABULOUS Weekend!!