Welcome to the October edition of the Really Reasonable Ribbon Blog Hop!
If you came to my blog from
Patti's Blog
, then you are on the RIGHT TRACK! If not, then you might consider starting over at the beginning at the
Really Reasonable Ramblings Blog
and make your way through. It will be worth your while!
Check out this Gorgeous Assortment that Bonnie has put together for the Ribbon Club!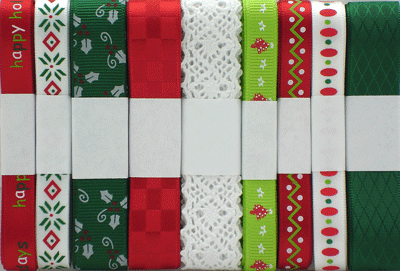 I LOVE Christmas! And this assortment was the perfect thing to get me all KINDS of excited about the upcoming holiday! When I started creating with these ribbons, I decided to crank up my stereo with Christmas tunes and light an apple pie scented candle...LOL. My family thought I was NUTS! But hey...they think that often! LOL.
Here is the bow that I created this month...
And here is a side view of all of the layers. I am addicted to layers lately!
And my beautiful model who always LOVES to display the newest "Bow of the Month"
Even though it is October, Skye could not WAIT to wear her newest bow to school! She is so funny!
Your next stop in the hop is at
Dawn's blog
. I am sure she has some tid bit of gorgeousness for you to see!
Oh, and the photo below is me modeling my bow...
Bet'cha didn't hink I would do it did ya, Bonnie!!??
Have a Magnificent Weekend! Thanks for visiting!