Hi everyone! Welcome to the August edition of the Really Reasonable Ribbon Monthly Blog Hop!
We are so very excited to have you joining us!
If you came to my blog from
Patti's Blog
, then you are on the RIGHT TRACK! If you didn't, then you might want to start at the beginning at the
Really Reasonable Ribbon Blog
and follow all the way through. You will be glad that you did!
This month, Bonnie has put together an amazing assortment of purples and grays.
I am in love with the effect these colors have together! They are gorgeous!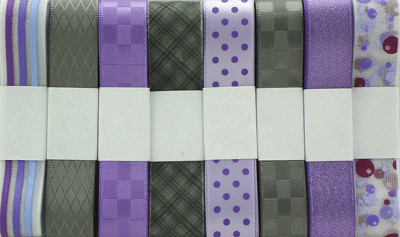 Of course I could not WAIT to create a bow with the amazing colors!
I decided to us mostly purple with only splashes of the gray:
Here is a couple of side views. I did add in a few extra ribbons to the bow...all of which can be found in the RRR Store.
And my regular model was "Out for Lunch" lol...
so had to bribe my 12 year old to model the bow. I now owe her a trip to Quizznos! She is a little Stinker!!
Thanks for stopping by today and hopping along with us all!
I hope you are finding lots of inspiration along the way!
Have a Magnificent Monday!!!