Hi everyone! Welcome to the September edition of the Really Reasonable Ribbon Monthly Blog Hop!
We are so very excited to have you joining us!
If you came to my blog from
Patti's Blog
, then you are on the RIGHT TRACK! If you didn't, then you might want to start at the beginning at the
Really Reasonable Ribbon Blog
and follow all the way through. You will be glad that you did!
This month, Bonnie has put together an amazing assortment for Halloween!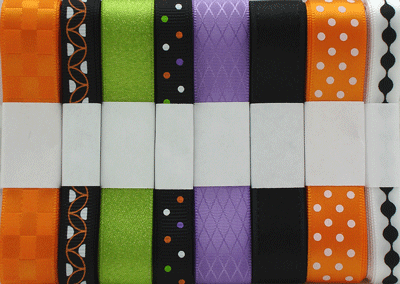 Of course I created a bow with these spectacular ribbons!
I did use ALL of the ribbons in this bow and MORE!
I decided to go completely out of my box of "Matchy Matchy" and just go completely random. Skye LOVED it!
Here is a side view of the bow:
I love creating bows with the Monthly ribbon club Assortments, especially since Bonnie puts these assortments together to take the "guess work" out of the matching process! She has done the hard work for us...just put those gorgeous ribbons to use!
Check out this Bow in use!
Here is a little card that I also did using the Monthly Ribbon Club Assortment...
Thanks for stopping by today and hopping along with us all!
I hope you are finding lots of inspiration along the way!
Have a Terrific Thursday!!!