Good Morning and Happy Friday the 13th!!!
What a FANTASTIC day to have a Blog hop!
Are you Ready!!!
Well, If you came to my blog from
Patti's blog
, then your are on the RIGHT track! If you didn't, then you might consider starting at the beginning with the
Cardmaker Blog
and hopping right along!
This month, we are sharing this succulent array of yellows and greens that Bonnie has so cleverly put together for the Ribbon Club Assortment. Isn't it just amazing!!??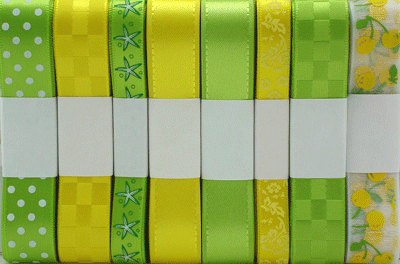 Of course, I did what any self respecting bow~making~ribbon-loving Mom would do....
I made Munchkin a new bow!
And she LOVED IT!!!!
L~O~V~E~D it!!!!!!
Her absolute favorite color is yellow...so this made her do a little song and dance when I gave it to her! lol
Side View:
And, After I finished the bow, I decided to use some of my left-over ribbon to make a cute summery card. I am absolutely in LOVE with that sheer ribbon with the yellow cherries!
TOO STINKIN' CUTE!
I hope I have inspired you all a little bit today. It is Friday the 13th, Y'all! and we all know that Friday is A PERFECT day to break out some ribbon and start creating! You have the weekend to finish!
Your next stop on this amazing hop is with
Colleen
. Hop on over and see what beautiful creations she has in store for you today!
Have a Fantabulous Friday!
Oh..and PS...Today is my Red Head's 12th Birthday...
So wish her a Happy Birthday!
HAPPY BIRTHDAY, AUBRIE! I LOVE YOU!!!!!