Hello everyone! Welcome to the March edition of the
Really Reasonable Ribbon DT Blog Hop
you are on the RIGHT TRACK!!! If not...you might
consider starting at the beginning at the
This month, we are showcasing this MAGNIFICENT
assortment of aquas and corals.
OMGoodness at the gorgeousness!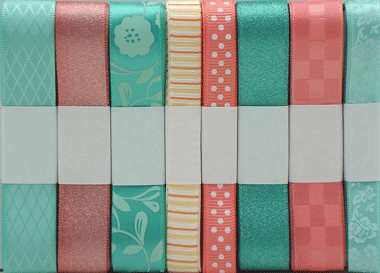 Of course, I used these beautiful ribbons to create
another hair pretty for my daughters.
This time, For my "Bow of the Month",
I decided on something a little bit different.
Skye is really getting into pulling her hair into a "side ponytail"
and doesn't always want to wear a bow.
SO...I decided to beautify her ponytail itself!
store and some ribbon from this month's assortment and made
a few ponytail bands with ribbon.
Here is one of them:
Skye loved the ponytail and LOVED the fact that she didn't have to wear a bow
in order to get the pretty ribbons in her hair!
Here is a close up of how it looked in her hair...
Of course, after modeling her new ponytail holder, she insisted on wearing it the rest of the day!
THAT alone tells me that she loved it.
Super simple...super cute...and SUPER easy!
Check out the Really Reasonable Ribbon Blog for my tutorial tomorrow!
Thanks for stopping and and have a WONDERFUL Day!