and start from the beginning.
This month, Bonnie sent us a BEAUTIFUL assortment of ribbons to create with.
This pack...the "Winter Whites" as she so appropriately named it, is so stunning that it took my breath away the moment I saw it!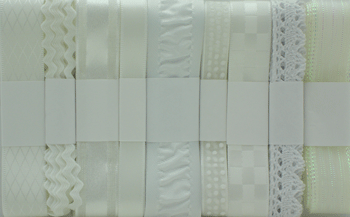 It was so beautiful...I almost wanted to put it up on the shelf and just gaze in awe! LOL...but I couldn't resist the temptation to create something beautiful!
I decided to create my monthly bow with the wintery whites and add a touch of
blues.
The blues added just enough of a splash of color to make it interesting, but not too much that it took away from the wintery effect.
Don't you just LOVE that peacock blue double ruffle ribbon!!!!
I also used some acrylic snowflakes from Imaginisce to accent it and achieve the wintery look.
I thought the winter whites were simply gorgeous, and I KNOW that you will, too!
And Thank you so much for stopping by today!