I recently found a blog the TRULY inspires me to no end...and I have wanted to participate ever since I found it, but have been truly time challenged. Today, My internet was out for a LARGE portion of the day, it was nasty and raining outside, and I have not received any of my DT kits yet...soooooooo...I scrapped for
"My Favorite Things!"
This challenge was to scrap some favorite memories. I have 5 kids, so, obviously I can't scrap about ONE in particular...and if I scrapped about ALL five...my memories of each one would be too extensive.....so, I scrapped my fave memories about Skye RIGHT NOW...because I don't ever want to forget how special these things are. This photo speaks VOLUMES about my favorite memories of her...so I naturally used it for this layout. My favorite memories of her include her favorite color is yellow, her fave princess is Belle, her fave activity is playing dress up, and her i love how she will always cock her head to the side when I am taking her picture!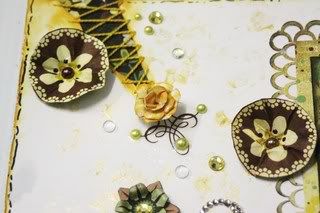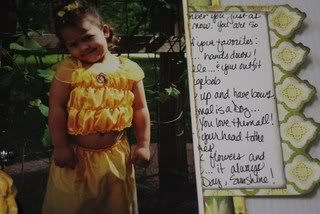 I also wanted to do this for Anna's title prompt over on the Simply Obsessed blog, but I forgot that was supposed to do a ONE word title...FAVORITE. I added in the extra tid~bits of a title...of well.
Most of the supplies I used are Basic Grey Origins...with a few others mixed in for good measure. I MADE those yellow roses! I was so excited at how they turned out!
Oh..and my favorite thing about this layout...almost everything is leftovers from past
Scrap Attack
kits! (with the exception of the background paper and the yellow and clear pearls and the paint) There are remnants of my last 3 kits in there...and they all look soooo good together!! I am soooo glad I kept the leftovers...because I am totally in love with how this came out!
TFL!! Have a FANTABULOUS day!!