Last week/weekend,
SD4U
and
Simply Obsessed
both had Crops for the Valentine holiday. I didn't get much done, because We had basketball all day Saturday and Mawmaw needed us on Sunday, but I did get a few layouts done!
I used this sketch by Kristine Davidson: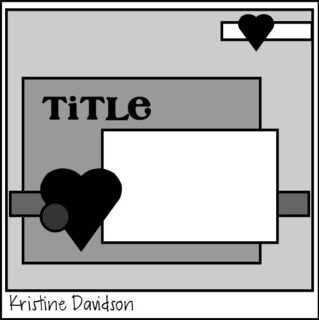 To create this layout using the February "All You Need is Love" kit from SD4U. I LOVE how this came out!! Aubrie is always calling Skye her "Sweetheart" so this layout is just fitting for my 2 little girls!
This layout is pretty close to my heart. I did this to adhere to the criteria for several challenges...but mostly, because it is the photo that Kay, my Step Mom requested on Christmas Day 2009. This photo was to mark the end of her year long battle with breast cancer...with her family by her side. It is Me, My Dad, My brother, and Kay, My Step Mom...this photo was truly "Made with Love"
These next 2 just focused on my little girlies...and used criteria from specific challenges to create. The SPRING is Coming layout was a scraplift of Jen from SD4U for the secret scraplift challenge...I so love how it came out! Thanks for the inspiration, Jen!
Well, I have more in the works, but have to go for now...I have a LOOOOOONG day ahead of me working int he shop on a wedding cake. Have a fabulous weekend!!