Hi! Welcome to our June Edition of the Really Reasonable Ribbon BLog Hop. This month we are celebrating a super sizzlin' summer with an amazing Ribbon Assortment!
If you got to my blog from
Jenn's Blog
, then you are on the right track. If not...You will want to start over at the
RRR Blog
and make your way all the way through. There is a lot of inspiration out there this month!
Check out this gorgeous ribbon assortment!
Cant you just feel the super summer heat coming from this!! LOL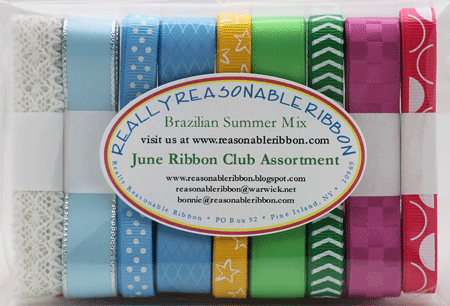 These ribbons were too magnificent for me to not make a new "Bow of the Month"...
SOOOOO. I made a Korker Bow for my munchkin!
I used all of the 3/8 ribbons from the assortment and tossed in a few more for good measure.
I also added in some fluffy feathers to add the fru~fru girly touch to the bow.
She LOVED it.
If you like this bow, tune in tomorrow to the RRR main Blog page and check out the super cool matching accessory!
(Hint...I mentioned it last month and several of you thought it was a great idea!)
The next stop on the hop is
Ginny
. That girl is so super talented! I know you will love whatever it is she has created for your viewing pleasure! I know I always do!
Have a wonderful Day and Happy Hopping!