Welcome to the First Hop of 2013!
Really Reasonable Ribbon Has a great line up of projects and inspiration for you!
If you arrived here from
Vivian's blog
, then you are on the right track! If not, then you might want to start over at the beginning at the
Really Reasonable Ribbon Blog
and check out all the blogs along the way!
I absolutely loe the Valentine mix that Bonnie put together for this month's Ribbon Club!
Te red/white/pink mixture sends all kind of messages of "LOVE"! lol
Here is the assortment...Isn't it Magnificent!!?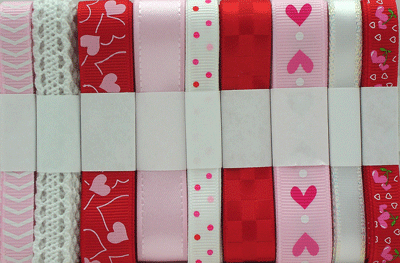 So of course, I had to make my "Bow of the Month" with the Ribbon of the month assortment!
So here is January's "Berry Sweet" Bow Valentine bow and clippies:
Here is a little snapshot of me with one of the matching clippies in my hand.
I used little strawberry heart shaped buttons to match the ribbon.
The pic of my model showing off the bow/clippies came out very blurry since it has been so rainy and dreary here. So I do not have a model, unfortunately!
Thank you so much for hopping along with us today! Your next stop in our hop is at
Ginny's gorgeous
blog. You are certain to find more wonderful inspiration there! Have a fantastic day!