Hi everyone and Happy Wednesday!
It is a PERFECT day to be hopping along with us!
then you are on the right track! If not, then you may want to consider
so that you don't miss a single project!
Here is this month's gorgeous Ribbon Club Assortment: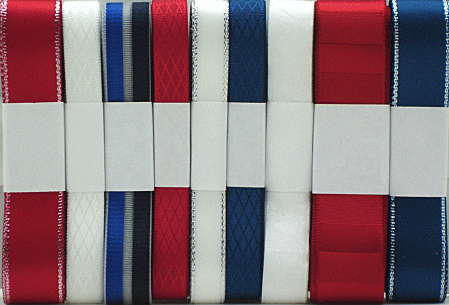 I am infatuated with the red/whit/blue theme!
I am not just an American girl, but I am also a proud Texan...
so those colors run all through my veins! Just sayin'... LOL.
This month, i decided to add a little "twist" to my bow of the month.
Rather than just a bow, I created a beautiful headpiece for my daughter to wear at
the annual Independence Day Parade and Celebration that we attend.
I used all of the ribbons in the assortment along with a bit more.
My red head is usually very reluctant to be the recipient of one of my creations,
but this month, she was practically on her hands and knees begging me for this one to be hers!
LOL..I think I got her approval this time. ;)
I hope I have inspired you with my creation. This month's assortment
definitely got my creative juices flowing again!
Thanks for stopping by and visiting me today!
and have a Fantabulous Day!!