It is that time again, Ladies!
Time to hop along with the Really Reasonable Ribbon's
FANTASTICALLY TALENTED Design Team
and see what we all have conjured up with the Ribbon Club Assortment.
If you arrived here from
Heidi's
blog, then you are on the right track!
This is the VERY FIRST blog hop with the new RRR team...and I can't WAIT to see what everyone has created with this beautiful Gold and Silver assortment!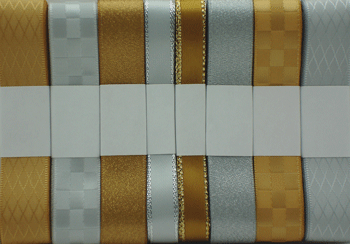 As most of you know by now, I soooooooo look forward to creating my "Bow of the Month" with each month's ribbon assortment. It is not only something that I enjoy, but something that my daughter has come to expect! LOL. She gets just as excited about the ribbons in the Club Assortments as I do now!
This month, the ribbons screamed BEAUTY and ELEGANCE.
And here is the bow that I created:
I can not wait to find the perfect matching holiday dress
to get Skye's pictures taken!
What a Beauty she will be!
As always...I will have a tutorial on how I made this bow posted on the RRR blog tomorrow!
If you want to know how, make sure you stop by there tomorrow!
Thanks for hopping along with us today. I certainly hope you are gaining some inspiration along the way. Your next stop on this hop is at
Dawn's Beautiful Blog!
Have a FANTABULOUS Day!!!!