It is that time again, Ladies!
Time to hop along with the Really Reasonable Ribbon's
FANTASTICALLY TALENTED Design Team
and see what we all have conjured up with the Ribbon Club Assortment.
If you arrived here from Andrea's blog, then you are on the right track!
This Month, Bonnie has put together a GORGEOUS array of Christmas beauties
to jumpstart our Holiday Spirit....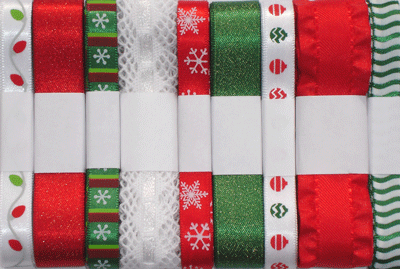 Can't you just imagine all the gorgeousness that can be created with this???!!!
I fell in absolute L*O*V*E
Christmas is my favorite time of the year....
The sights, the smells, the smiles, the tastes...
And the list goes on and on.
It is a time of the year that many of us stop and let the world bustle around us
while we savor the moments given to us to be with our family.
I am one of those people.
I am also one of those crazy Moms that likes to be all "Matchy~Matchy"
with my family at our holiday functions.
Nuts...I know...but it sure makes for some pretty pictures!
SO, due to my obsessive nature, I felt compelled to make not just a Bow of the Month for your all today,
but a head band and a clippie to match!!
Here is the Bow of the Month...
I think I am calling it "Mrs Clause" LOL.
Skye brought this mini ornament to me and wanted me to put it in her bow...
so I obliged! lol.
And here is a Christmas Tree clippie.
THis is SUUUUUPER easy to make...
And here is Aubrie's headband...
It kind of reminds me of the Christmas ribbon candies.
The bow is HER addition...
she said it HAD to have the bow because when she wears it....
She is a "Gift" and all good gifts are tied with a bow.
I think she is a little full of herself...but hey...what do I know!!?? LOL
I hope I have given you a little bit of inspiration today. I always LOVE the Ribbon Club Assortment,
but this month was my favorite. I think I may be a bit partial to Christmas though!
Your next stop in the hop is at the super talented
Connie!
I KNOW you are going to love what she has in store for you!!!
Thank you all for stopping by...and have a Fantabulous Day!!!!