Hi! Welcome to our September Edition of the Really Reasonable Ribbon Blog Hop. If you got to my blog from
Jenn's Blog
, then you are on the right track. If not...You will want to start over at the
RRR Blog
and make your way all the way through. There is a lot of inspiration out there this month!
This month we are Easing on into Autumn with an amazing Ribbon Assortment! The colors of these ribbons remind me of the leaves turning color and gently falling from the trees.
It makes me think of cool~crisp days and Thanksgiving dinner.
Yes...I am weird! LOL. I live in Texas where one can only DREAM of those beautiful colors during the Autumn season!
Check out this gorgeous ribbon assortment!
Cant you just hear the leaves rustling on the ground!!!
I am in LOVE!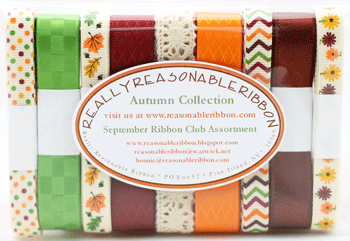 I maintained that whole autumn leaf aura as I planned my "Bow of the Month".
I used the burgandy, orange, and green ribbons from this assortment and tossed in some brown to complete the color progression. And I even added a metal leaf in the center!
Here is an up close of this bow:
And here is a side view to see the thickness and the layers of ribbon:
And guess what...I loved the first bow SOOOO Much, that I made a 2nd one to match!
Now they can be worn as piggy tails!
My daughter fell in LOVE. Of course! LOL
I sure hope this inspired you to get your "Craft On" this weekend!
If not...just hop on over to the next blog...I know you will LOVE everything!
The next stop on the hop is
Ginny.
That girl is so super talented! I know you will love whatever it is she has created for your viewing pleasure! I know I always do
Have a wonderful Day and Happy Hopping!
**************************************************
**I do sale my bows now, and I do take custom orders.
ALL of my ribbon comes from
Head on over and see if there is a ribbon that strikes your fancy!
I guarantee I can Build You a Bow with it!
Halloween, Thanksgiving and Christmas are just around the corner!**