If you arrived to me through
Andrea
's blog, then you are on the right track! If not, you should go back to the beginning at the
RRR Blog
and start there.
This is a super fun mix of various shades of blue with a touch of white.
Doesn't this just make you want to take a "Day-cation" to the beach?
It made me want to make my "Bow of the Month!"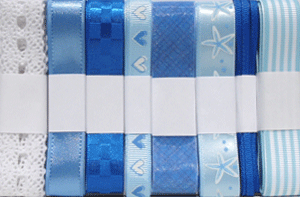 Hopefully, as you hop along to each blog, you will get a ton of inspiration
and ideas on what to do with such a gorgeous assortment of ribbons!
Here is the hop order for easy reference:
Now, would you like to see what this month's assortment inspired me to create?
LOLOL...but you knew that right????
Well, it is not just ANY bow...
What is the hottest
tiny and BLUE
thing right now?
I saw this assortment and just HAD to make a
Smurfette
bow for Skye to match her Smurf shirt. The various tones of blue were perfect for Smurfette!
And of course, Miss Skye absolutely ADORED it.
she was more than willing to model it for us!
I just love Bonnie's Ribbon of the Month assortments!
They are always filled with beautiful ribbons that create the most amazing projects!
Thank you for stopping by today...
I hope I have given you a bit of inspiration to start your next ribbon project!
Your next stop on the hop is
Connie
!
Have a Fantabulous Weekend!